City of Toronto Mandatory Downspout Disconnection Bylaw

Toronto City Council has approved a bylaw making it mandatory for property owners to disconnect their downspouts from the City's sewer system. The bylaw came into effect in the City's central area and in chronic basement flooding areas in 2011 and 2013, respectively. All remaining properties across the City must be disconnected, where feasible, by December 3, 2016.
A property (one or more downspouts) may be eligible for exemptions where the City determines a disconnection is not feasible or creates a hazard.
WATERCOM ENGINEERING can provide the following services: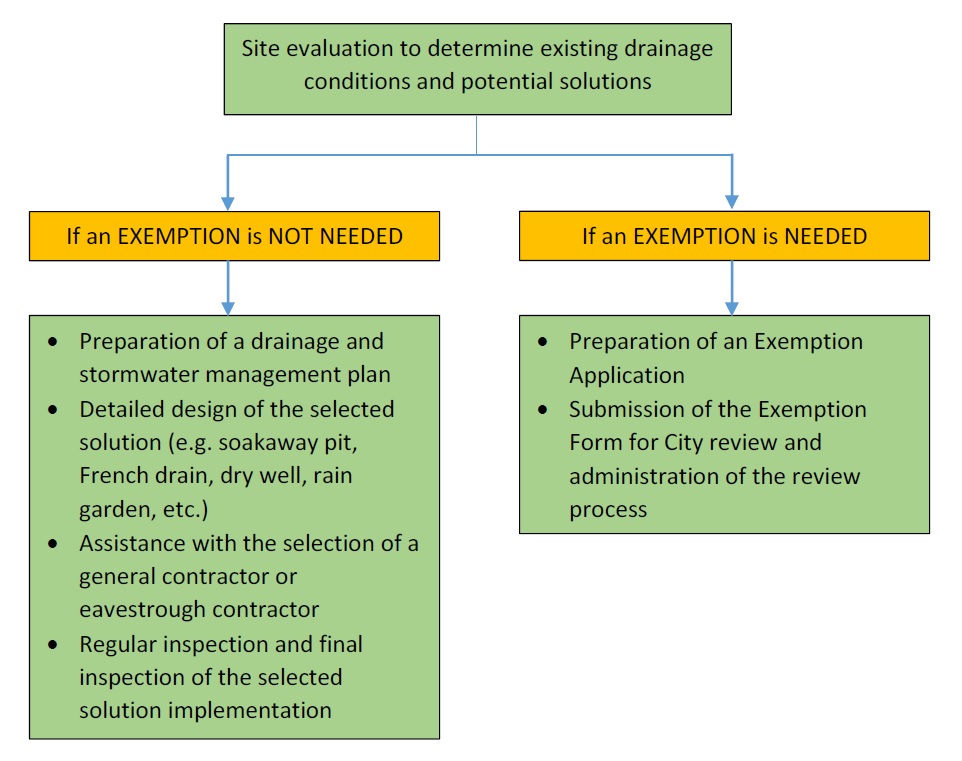 Please contact us by phone at 416-575-9360 or by email at info@watercom.ca. Additional information regarding the Mandatory Downspout Disconnection Program is available on the City's website at www.toronto.ca/water or by calling 311.
NOTE:
Proper downspout disconnection involves determination of the location of existing downspouts and points of discharge, estimation of runoff volumes and flow rates from each downspout, assessment of site drainage characteristics, preparation of a post-disconnection site drainage and stormwater management plan, detailed design of drainage components and implementation by a qualified contractor.
Improper downspout disconnection may result in basement flooding, foundation wall cracking, frost heave, excessive yard pooling and soft ground conditions, safety issues related to runoff freezing and other drainage-related problems. Liabilities resulting from discharging site runoff to adjacent municipal or private property may arise.